Factsheet
Developer:
Velvety Couch Games
Based in Victoria, BC Canada

Release date:
May 8, 2013

Platforms:
iOS Universal



Android Google Play



Android Amazon

Website:
velvetycouchgames.com

Regular Price:

| | |
| --- | --- |
| USD | $0.99 |
| EUR | €0.89 |
| CAD | $0.99 |
| GBP | £0.69 |
Description
Launch OddBalls from a cannon in this crazy physics based puzzle game! Bounce off walls, float in fans and bend around magnets to solve tricky puzzles using real physics. One OddBall bounces, one floats and the other is made of heavy metal. Combine these traits with special powerups to guide the OddBalls through challenging puzzle rooms. Collect energy points and progress through a facility full of obstacles. Uncover the secret storyline about the OddBalls and leave no OddBall behind!
History
Starting as a physics gameplay experiment, OddBalls began as a project for Graham to learn the Unity3D engine. After refining it with months of testing and tweaking, OddBalls eventually grew into a fully featured game with a good mix of fun and challenging puzzles. As a one-man indie developer working alone in his spare time, Graham saw the potential of OddBalls and decided to hunker down and finish it. Over the span of the next couple of years Graham kept his day job but spent every weekend, evening, and lunch hour working on the game. OddBalls was finally completed and released in May of 2013 as Graham's first indie game launch!
Features
Clever physics based puzzles
Colourful 3D graphics
One super charged cannon
3 different OddBalls each with special traits
Multiple powerups
Moving platforms, fans, magnets, buttons and more
Over 80 interactive levels
Game Center Leaderboards
A storyline with multiple endings and end game boss battles
Logo & Icon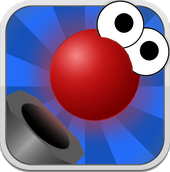 Awards & Recognition
Oddballs has not received any awards or recognitions yet. Please check back later to see if things change.
Selected Articles
"The bottom line: If you like puzzle games, and you like playing with balls, buy Oddballs"
- Curtis, The Indie Developer, The Indie Developer
"OddBalls was a very pleasant surprise and I definitely recommend it if you're looking for a new puzzle game"
- Matt Albrecht, Indie Statik
"Oddballs... was a labor of love to create"
- Christer Kaitila, Indie Games the Weblog
Request Press Copy
Please fill in your e-mail address below and we'll get back to you as soon as a press copy is available for you.

Additional Links
Velvety Couch Games website
Numerous development blog posts can be found on the Velvety Couch Games website velvetycouchgames.com.
About Velvety Couch Games
Boilerplate
Velvety Couch Games is a one-man independent game studio based out of Victoria, BC Canada. As a passionate indie developer, Graham Davis is focused on creating unusual, immersive and above all else FUN games!
More information
More information on Velvety Couch Games, our logo & relevant media are available here.
Oddballs Credits
Graham Davis
Design, Development, Art, Business, Velvety Couch Games
Andrew Riley
Music, Licensed
presskit() by Rami Ismail (Vlambeer) - also thanks to these fine folks